CrossFit NCS – CrossFit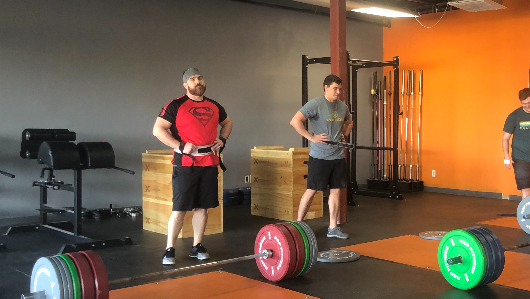 Warm-up
Parking Lot Run
Group line drill:

Quad stretch

Knee hug

Cradle

Toe touch

Side lunge

Duck Walk

Bear Crawl – Legs loaded

Bear Crawl – Legs extended

Heel Walk

Toe Walk

Air Squat x 3 and Jump
MOBILITY – See Mobility section
Points of Performance review with PVC pipe:

1. Upright Torso

2. 3″ dip with knee out (glute engangement)

3. Drive from mid-foot and heel (solid push off the floor)

4. Drive with legs and push with arm (core to extremity)

5. AVOID – Torso drop, elbows dropping during the exceleration, bar path going around the chin and jerk.
Barbell Warm Up:

Good morning

Back squat

Strict Press

Elbow Rotation

Push press

Front Squat
Mobility
Scap Retrations from pull up bar 2 x 5

I, T, Y on floor

Medball Thoracic Opener – https://www.youtube.com/watch?v=mOEpmTo8uuE

Pigeon Pose
Skill / Strength
Bad Blood (AMRAP – Reps)
5 Rounds:

1 Minute Wallballs (20/14)

1 Minute Push Presses (95/65)

1 Minute Calorie Bike

1 Minute Rest