CrossFit NCS – CrossFit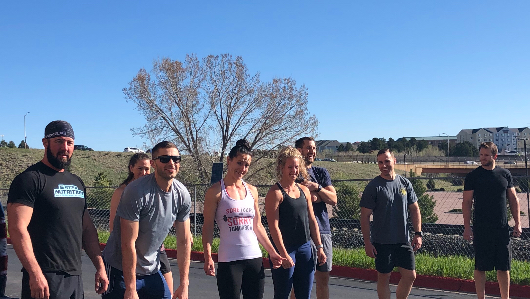 Warm-up
Warmup Run

200 Meter Easy Jog
30 Seconds

Plate Hops

Air Squats
Plate Ground to Overhead

Active Samsons
Plate Counterbalance Squats (Press Away From Body During Squat)

Deep Side Lunges
*Warmup completed with 15/10 plate
Modified Barbell Warmup

10 Back Rack Elbow Rotations

5 Pausing Back Squats

10 Front Rack Elbow Rotations

5 Pausing Front Squats
MOBILITY (10:00 – 15:00)

Partner 1: Banded Ankle Distraction (45 Seconds Each Side)

Partner 2: Drop Ankle Stretch off Plate (45 Seconds Each Side)
*If you have a bigger class, alternate partners between the two movements. For a smaller class, everyone can be on the same movement.
Skill / Strength
Front Squat (1-1-1-1-1-1-1)
We are working up to a heavy front squat today. Do NOT force a PR, that's where injuries occur. Instead, seek a heavier load. Go by "feel". Your loads should feel good and you should feel confident. PRs will happen in due time.
Metcon
Front Runner (Time)
For Time:

200 Meter Run, 2 Front Squats

200 Meter Run, 4 Front Squats

200 Meter Run, 6 Front Squats

200 Meter Run, 8 Front Squats

200 Meter Run, 10 Front Squats
Barbell: 165/110
FRONT SQUATS

Challenge yourself to go big, ideally unbroken

This is the only place in the workout would we'd stop moving

Fight hard through the big sets of 8 and 10

RUNNING

Runs are more important at the beginning than at the end

Choose a pace that allows for large, preferably unbroken sets on the barbell