CrossFit NCS – CrossFit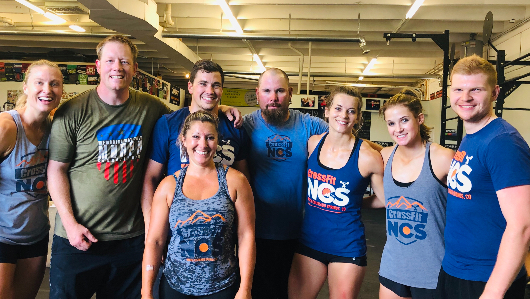 Warm-up
WOD BRIEF + GROUP WARMUP (0:00 – 10:00)

30 Seconds

Active Samson Click Here

Kettlebell Deadlifts
Push-up to Down Dog Click Here

Russian Kettlebell Swings
Inchworm to Push-ups Click Here

Kettlebell Goblet Squats
*Performed with lighter kettlebell
Modified Barbell Warmup

5 Good Mornings

5 Back Squats

5 Reverse Lunges (Each Side)

5 Elbow Rotations

5 Strict Press & Reach

5 Romaninan Deadlifts

5 Front Rack Reverse Lunges (Each Side)
MOBILITY (10:00 – 12:00)

Pigeon Pose with Kettlebell Lat Reach: 1 Minute Each Side
PUSH JERKS

Vertical Torso

Unlike the torso in the kettlebell swing, the only option we have to choose from on the push jerk is a vertical torso. With the bar traveling straight up overhead, we want to keep everything upright and balanced in the dip and the drive. Three things we can think of to maintain better control of our torso:
Slow down the dip

Weight in the heels

Hips back, knees forward

Take a look at the daily video for a visual of the torso angle we're looking for in the push jerk and kettlebell swing.
Movement Prep

10 Second Dip Hold

5 Slow Dips

5 Push Press

5 Push Jerks
Skill / Strength
Push Jerk (EOMOM 12 x 3)
Work to a heavy lift. Coaches, stagger start times to get a better look at larger classes.
Metcon
Beef Jerky (AMRAP – Rounds and Reps)
AMRAP 12

21 Kettlebell Swings (53/35)

14 Kettlebell Reverse Lunges

7 Push Jerks (165/115)